Soorya Performing Arts is an organization dedicated to promote Indian classical dance, music and theater from India in USA. It has dedicated to share the knowledge of traditional art forms of Indian civilization which are rooted in its tradition and culture for many millennia. Under Soorya's umbrella classical dance forms such as Bharathanatyam and Kathak; classical music form such as Carnatic music are taught on by devoted teachers. Till now it has educated many thousand students since its inception.



(Guru Prasanna Kasthuri with his teacher Guru Narmada)
As an event organizer it has provided opportunity to perform to several hundred talented artists from USA, India, Canada, Europe through its pioneering efforts through St. Louis Indian Dance Festival, St. Louis Indian Music Festival and NATAKA – a theater festival. It has led the non-profit artistic activity with the help of many like-minded entities such as Missouri Arts Council, Regional Arts Commission and many patron businesses, and art loving patrons.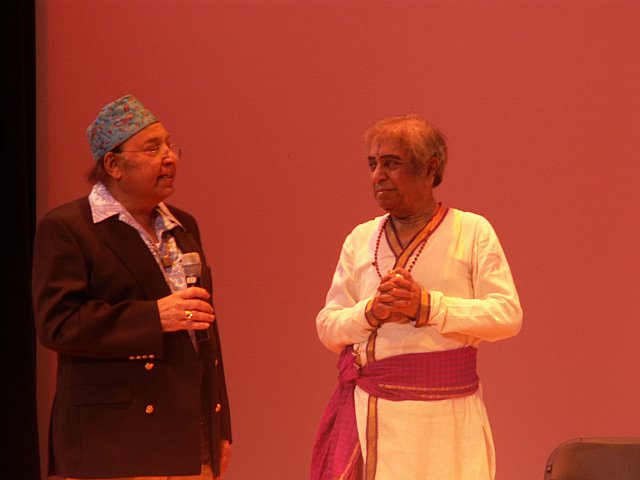 (Pandit Birju Maharaj with Ustad Imrat Khan during Soorya Performing Art's event in 2008)
Soorya performing arts is instrumental in bringing classics such as the 2nd century Sanskrit play – "Mruchcha Katika" for the first time in Midwest USA. It has produced much acclaimed productions such as RAINBOW-2, which has brought the poems of legends such as Shakespeare, Wordsworth and civil liberty poet - Maya Angelou and many more. This is the only organization which brought the legendary Padmavibhushan Pandit Birju Maharajji to St. Louis, MO to this day.

Under its Artistic director Guru Prasanna Kasthuri, it has laid a great vision of Indian – American artistic collaborations, which represents the two greatest democracies on the face of Earth.

Come and join Soorya Performing Arts to enjoy the beauty of Indian performing art form and its collaboration with modern world.
The above Sanskrit verse is taken from 12th century Theatre Treatise - Abhinaya Darpana (Mirror of Gestures). The meaning is - To whom the whole body is the entire Universe ; To whom all the audible sound is his speech; To whom moon and stars are his jewels; I bow to such spiritually strong Shiva, the deity of dance!
The beauty of this verse is such that, it explains the four major ways all human beings can express - 1. through body movements, 2- through sound or speech or music 3 - through costume or attire 4 - through feelings and emotions. All these extremely important for any performing artist.
upcoming