Past Events
Past Events of Soorya Performing Arts
SOORYA PERFORMING SERIES - 1
BHARATHA NATYAM PERFORMANCE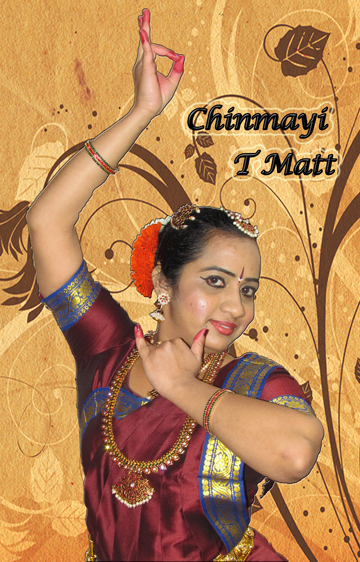 Chinmayi T. Matt
When
Saturday - Dec. 07, 2013 From 6:30 pm to 7:30pm
Where
JUST DANCING PERFORMANCE SPACE
236 OLD MERAMEC STATION ROAD
MANCHESTER, MO 63021
All are welcome

Music Ensemble

Vocal: Guru Seema Kasthuri;
Nattuvangam: Samanvita Kasthuri
Mrudangam: Prasanna Kasthuri
Violin: Ramesh Cherupala
Supported by Missouri Arts Council and
Regional Arts commission of St. Louis
For more details please contact
314-397-5278 /
www.sooryadance.com

YAKSHAGANA
by visiting artists from INDIA
Soorya Performing Arts is co-hosting along with Sangama, a local Kannada association, "Yakshagana" program by Purnachandra Yakshagana Prashistana and its Artists from India with live music on Friday, Nov 22 @ 7:30 PM held at Midwest Music Conservatory (15977 Clayton Road, Ballwin MO 63011).
Meet and Greet Artist @ 7 PM: Dinner boxes will be available for purchase (RSVP to evite invitation is required; indicate how many dinner boxes in the evite RSVP comments). Time permitting, you may also be able to witness artist getting ready for the show. Proceeds of boxed dinner will go to Pablove Foundation, OMS FUND.
This is a Free Event. Donations to artists and sponsorships are greatly appreciated. Please contact: Guru Prasanna Kasthuri 314-397-5278 for more details.
Bells And Anklets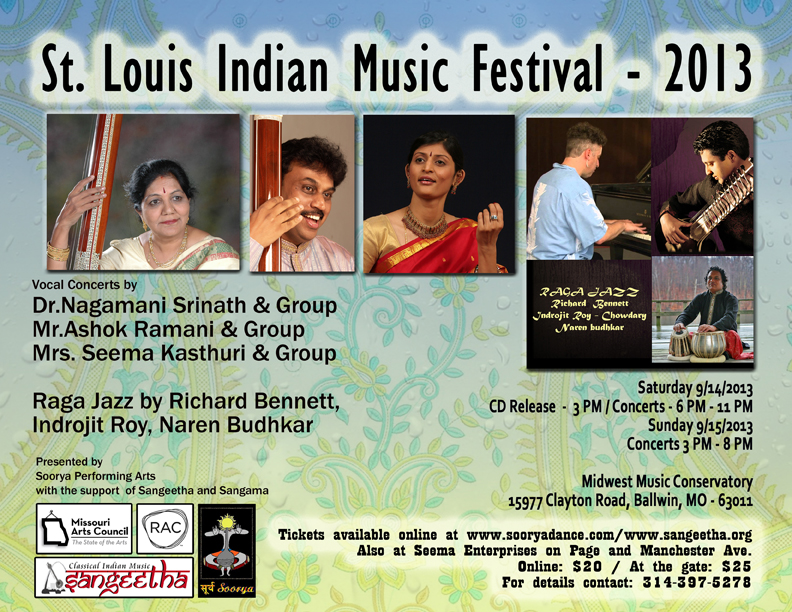 NIRIKSHA - MUSIC ALBUM - Released in INDIA
Soorya Performing Arts welcomes all the art connoisseurs to the launching ceremony of Guru Seema Kasthuri's new CD - "NIRIKSHA"
Venue: Seva Sadana, 14th Cross, Malleswaram, B'Lore - 560003
Time: 10:30 AM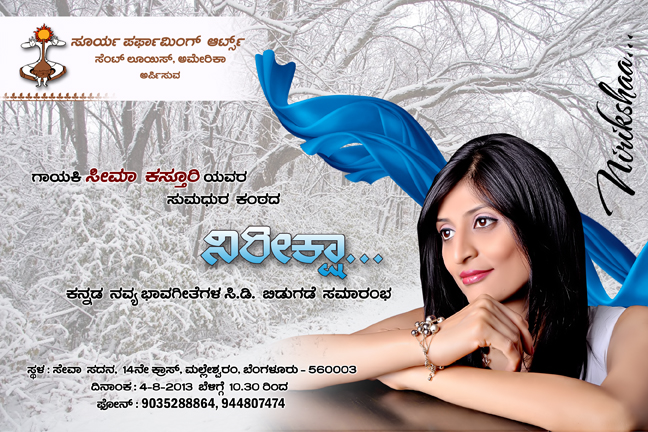 Misri Patel's Bharathanatyam Arangetram
Clieck here for more information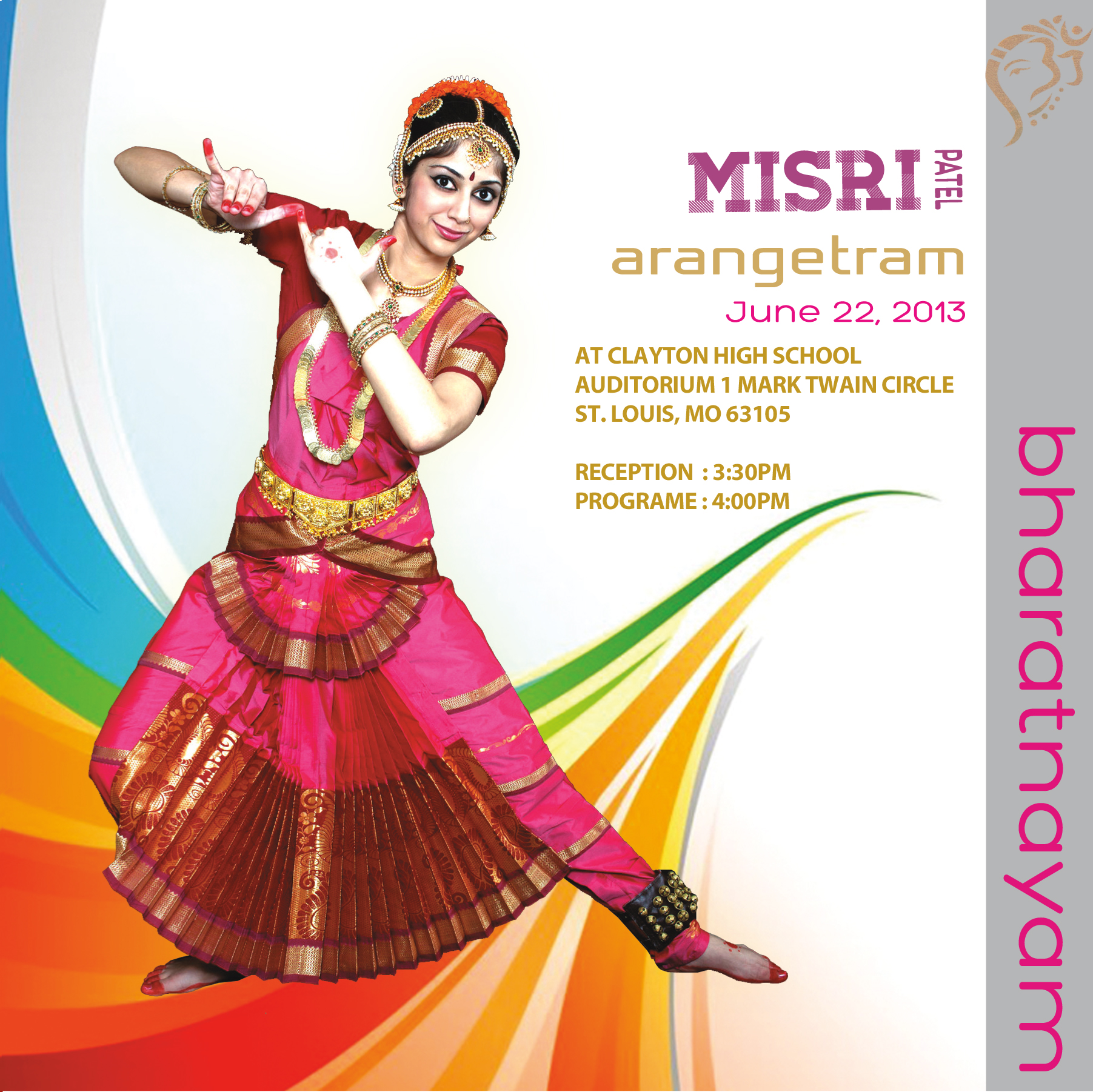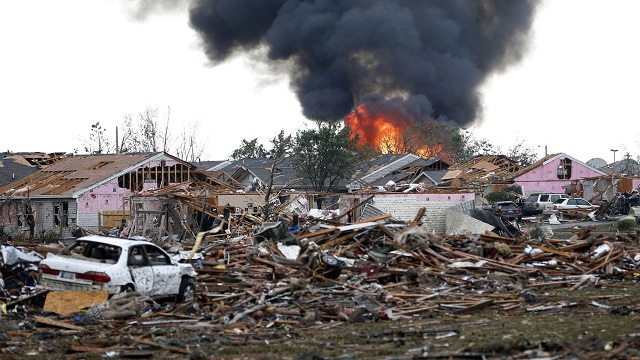 You can help. Please Donate Generously.
Close to 50,000 people located in Oklahoma near the area recently devastated by an EF-5 tornado on May 20, 2013. This tornado has caused destruction of unbelievable magnitude. Many have lost their lives to this wrath of nature. Tornado has hit twice and made the situation worse. There are many ways to help.
We are trying to bring awareness of this tragedy and raise funds for American Red Cross through a concert of Indian artists and Indian organizations. We hope our help will translate to a meaningful resource to the needy through American Red Cross.
OKC/STL Tornado Disaster Fundraising Concert
A fund raising event by Indian American Artists to help the victims of Oklahoma, St. Louis area who are affected by the Tornado in May/June 2013
Bharathanatyam Dance
Come and support the free event of Indian Classical Dance, Music, Drama, Hindi Karoake and Skits to raise funds to help the victims of Oklahoma Tornado disaster

Venue: Gandhi Center
Time & Date: June 14 2013, 7 PM
FREE ADMISSION


Guest Performances by leading Gurus & their students of Music and Dance from St. Louis area

Melodious classical songs by :
Gurus Seema Kasthuri, Sandhya Pandurangi, Vidya Anand


Beautiful dances by:
Prasanna Kasthuri, Sujatha Vinjamuri, Smitha Rajan,

Indian Instruments:
Recital by Nithya Sayee Ganesh
Sitar Recital by Belinda Imrat Khan and Azmat Ali Khan
Flute concert by Dr. Shankar Sastry
Gujarati folk Dances by Neelima Bhavsaar,
Veena Concert by Meenakshi Maami,
Tabla performance by Raghu Pandurangi,


Dazzling dances by:
Bharathanatyam Dance by Meghna Bharadwaj,
Bharathanatyam Dance by Misri Patel
Kathak by Trisha Bhattacharya, Sara Parikh, Karishma Pradhan
Classical Vocal by Samanvita Kasthuri, Shruthi Ramalingam, Priya Kanna


Bollywood Karoake Songs by Falgun Dave,Vinod Shenoy, Jaya Sinha and many others


Maha Ganapathim (Morning Raga movie) -Fusion Dance from TAS
Special Bharathanatyam performance by Visiting Indian Artist V K Mahalingam
(Student of Dhananjayans, Chennai, India)
Volunteering for the event is done by :

Students of St. Louis College of Pharmacy, Hindu Temple Youth Group
3rd Soorya Performing Series
Dhun
Dancing Feet & Drumming Fingers
An electrifying performance of foot work to the beats Indian drums - Tabla & Mrudangam by Guru Prasanna Kasthuri with Live music.
We invited you to enjoy two beautiful performances
On May 19th, 2013 (2:00 PM / 5:30 PM)
Clayton High School Auditorium,
#1 Mark Twain Circle, St. Louis, MO 63105

Performance 1 (2:00 PM - 3:00 PM)

Blossoming Flowers

Bharathanatyam and Kathak performance by Students of Soorya Dance Company

Performance 2 (3:30PM - 5:30 PM)
Te na Vina
A metaphysical dance presentation with Kathak & Bharathanatyam Styles by :
Guru Prasanna Kasthuri
with co-dancers



Musicians:




Vocal: Seema Kasthuri

Seema Kasthuri is an accomplished singer with a charming voice. She has undergone Carnatic Music training for over 10 years under Vidwan K.R Venkatesh. She has completed her Senior level board exams in Karnataka. Seema has accompanied Guru. Venkatesh in several concerts held in many places of state of Karnataka. Seema has taken active participation in most of the music productions from Sharada Vidyalaya under guru Venkatesh that was produced for All India Radio. She has also given concerts in Devotional Music and light music. Later, she is pursued her education studentship with Chintalapalli Krishnamurthy.

Mrudangam: Srinivas Venupuri

Violin: Shiva Sankalp

Shiva Sankalp is a Carnatic musician from South India playing the violin as a solo and accompanying artiste. He started training at the age of 13. His talent to grasp the musical notes on the stringed instrument was spotted by his father, a musician and author himself. Shiva Sankalp was promptly put under the tutelage of expert musicians. His initial training was chiefly under Vidushi Smt. Rathna Srikantaiah, a disciple of Vid. RR Keshavamurthy herself. Shiva Sankalp has had privilege of honing his violin skills under the guidance of eminent musicians like Vid. RR Keshavamurthy, Vid. HS Balakrishna and violinist par excellence Vid. A Kanyakumari

Tabla : Narendra Budhakar

Born into a musical lineage in India, Naren Budhakar began playing tabla at a young age and performed for for schools, colleges and radio. Having moved to the U.S., he has performed with great maestros of dance, instrumental and vocal music including Pt. Birju Maharaj and Ustad Amjad Ali Khan. He has also contributed his tabla skills to other genres including jazz, Irish Celtic and rock music. He has performed at prestigious venues in the U.S.including Carnegie hall, Kennedy Center. Metropolitan musuem as well as abroad in Canada and Scandinavia. Recently he was cited by the New York Times for his percussion work with Alvin Ailey, the acclaimed dance company. He also did a duet with Bobby Mc Ferrin. Naren is a disciple of Ustad Shabbir Nisar of Hyderabad.

Sitar: Amitava Chatterjee

Amit Chatterjee is an internationally reputed guitarist, sitarist, composer and vocalist, who is renowned and respected for his work in the two distinct fields of jazz-fusion and Hindusthani Classical Music. As an Indian musician, when he performs on sitar, he plays only the purest traditional Shastryia Sangeet (Classical Music) of North India.


This performance supported partially by the funds provided by Missouri Arts Council, Regional Arts Commission.
Soorya Performing Arts | 236 Old Meramec Station Road | Manchester | MO | 63021
Past Performance
The 5th St. Louis International Indian Dance Festival - 2013
St. Louis, Mo. April 19th - 21st
Clayton High School Auditorium
"Dazzling costumes, impeccable footwork, creative movements, eternal story lines…."said the spell bound audience in April 2012.
We say "Here we come again" in 2013, bright & promising as ever with 22 dance performances, in 9 ethnic dance styles over three spectacular days, nights of April 2013.
We welcome you all 5th St. Louis Indian Dance Festival.
5th St. Louis Indian Dance Festival brings alive the classical dance forms such as Bharathanatyam, Kathak, Odissi, Manipuri, Kuchipudi, Mohini Attam, Sastriya, Yakshagana and Contemporary Bharathanatyam. Dancers arrive from different corners of the world such as India, France, United Kingdom, and many cities of USA. This dance festival is a reflection of freedom of expression given to all its citizens. T provides a great opportunity for the second-generation Indian Americans.
Come and enjoy the beautiful "Mudras" (Hand gestures)
Come and enjoy beautiful "Sthanaka" (Positions)
Come and enjoy the great unification of "Tala" (rhythm) with the feet…
Come and enjoy the Nava Rasas ( sentiments) flowing through the emotive mind status of a dancer…
The only one original representation of true Indian dancing….
It is an ultimate artistic experience of no parallel
The 5th St. Louis International Indian Dance Festival - 2013
Friday Evening - April 19, 2013 - 6:15 PM
6:15 PM
Lighting of Lamp & Invocation
By Students of
Soorya Performing Arts
St. Louis, MO USA
6:30 PM
Solo Kuchipudi
Guru Sailaja pullela
Detroit, MI USA
7:20 PM
Solo Bharathanatyam
Shalini Subbarao
St. Louis, MO USA
8:00 PM
Announcements &
Dinner Break
Dinner Break
8:30 PM
Yakshagana & Bharathanatyam
Guru Mangala Anand &
Rajendra Kedlaya
9:20-10:30 PM
Grand Odissi Dance
Orissa Dance Academy
Saturday Morning Session - April 20, 2013 - 10:30 AM
10:15 AM
Solo Kuchipudi
Neha Kidambi
11:05 AM
Solo Bharathanatyam
Krishnan,
Smriti Bharadwaj
11:55 PM
Solo Bharathanatyam
Joshua Cherian
12:45-1:30 PM
Solo Bharathanatyam
Anisha Gururaj
Saturday Afternoon Session - April 20, 2013 - 4:00 PM
4:15 PM
Sattriya dance
Madhusmita Bora
5:05 PM
Manipuri
Krishnakali Dasgupta
6:00 PM
Coffee Break
Coffee Break
6:15 PM
Solo Bharathanatyam
Prakruti Hoskere
7:00 PM
Solo Kathak
Sharmila Sharma
7:45 PM
Announcements and
Dinner Break
Break
8:15-9:30 PM
Trunamapi Na Chalati
Guru Prasanna Kasthuri
Sunday Morning Session - April 21, 2013 - 10:30 AM
10:15 AM
Solo Bharathanatyam
Annuja Mathivanan
11:05 AM
Solo Bharathanatyam
Sowmya Kumaran
11:55 AM
Solo Kuchipudi
Manasvini Avvari
12:45 PM
Solo Bharathanatyam
Ma Bavya
Sunday Afternoon Session - April 21, 2013 - 3:00 PM
3:00 PM
Solo Kathak
Sunaina Rao
3:45 PM
Group Bharathanatyam
Kripa Baskaran
4:45 PM
Coffee Break
Coffee Break
5:00 PM
Group Bharathanatyam
Sahasra Sambamoorthi
6:00 PM
Kathak Duet
Guru Prashanth Shah
6:45 PM
Break
Dinner Break
7:20-8:30 PM
Mohini Attam Group
Guru Smitha Rajan