SOORYA PERFORMING EVENTS OF 2015
---
---
DASHA AVATARA

(TEN INCARNATIONS OF MAHAVISHNU)
Saturday - May 2nd 2015 - Rockwood summit High School Auditorium - 6pm - 9 pm
Free admission
KATHA KAHE SO
(GREAT STORIES OF INDIA NARRATED IN KATHAK STYLE WITH LIVE MUSIC)
SUNDAY - MAY 3RD, 2015 - 2:30 -pm - 4:30 pm - CHESTERFIELD COMMUNITY THEATER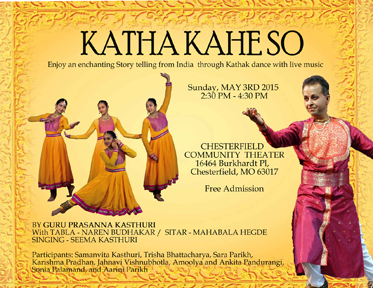 SPECIAL PERFORMANCE BY
GURU PRASANNA KASTHURI

WITH
SAMANVITA KASTHURI, KARISHMA PRADHAN,
SARA PARIKH, TRISHA BHATTACHARYA AND OTHERS
WITH
SEEMA KASTHURI - ON VOCALS
NARENDRA BUDHAKAR - ON TABLA
MAHABALA HEGDE - SITAR
ALL ARE WELCOME
---
---
7th St. Louis Indian Dance and Music Festival
Click here to get an e-brochure of 2015 St. Louis Indian Dance Festival
Guru Viji Prakash - 2015 - American Natya Lifetime Achievement Awardee

7th St. Louis Indian Dance and Music Festival




---
---
---
---
Soorya misses one of its greatest Supporter.
K. R. Padmaje - inspiring personality, an author, an ambassador of Indian culture and tradition passed away on Saturday, Aug 8th, 2015, in Bengaluru. She is the mother of Guru Prasanna Kasthuri (artistic director of Soorya Performing Arts). She was instrumental in shaping him as an artist, who is contributing to the cultural scene in St. Louis and in India. She was a mercurial person who engaged in artistic promotions of Soorya Performing Arts from India. She was an inspiration and support to our organization. We miss her a lot. Rest her soul in peace.
Padmaje Kasthuri - 1944 - 2015
---
---

DIWALI DHAMAAKA - A TALENT SEARCH EVENT
PRIZES WERE UPTO $3500
---
---
Our artistic directors Guru Seema Kasthuri and Prasanna Kasthuri are in India giving performances in many reputed organizations. Below is the list of performances. Please plan on attending.
Arudhra Dance Festival
Bharathanatyam Guru Prasanna Kasthuri, Guru Pulikeshi with Kathak by Kum Samanvita Kasthuri
Subhash Bhavan, Rajarajeshwari Nagar, Bengaluru, Karnataka
Hosted by Ponnambalam Golden Temple of Fine Arts
29th December, 2015 - 6PM - 8:45PM
Maatrunamana Dance Festival
Jan 2nd 2016 - ADA RangaMandira, JC Road, Bangalore, India
Kathak performance by Kum Samanvita Kasthuri
Vocal Music by Seema Kasthuri
Bharathanatyam by Guru Pulikeshi Kasthuri & Vijayashri
Jan 3rd 2016 - ADA RangaMandira, JC Road, Bangalore, India
Maatrunamana - Day 2
Bharathanatyam by Shriya Kasthuri
VISMAYA - A themed dance production - by Guru Prasanna Kasthuri in multiple dance styles.
Sangeetha Sambrama Dance and Music Festival

Jan 4th 2016 - Seva Sadana - 8 PM
Beralge Koral - Nritya Nataaka - by Kasthuri brothers